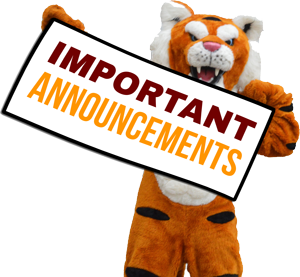 Announcements
HHS - Rox Bicknase
Wednesday, September 05, 2018
WINTER FORMAL has been rescheduled for SATURDAY January 5th. Any ticket adjustments due to the change of date will be made Friday January 4th in C125.
SENIORS: Need to Pay for College???
Be sure that you are periodically checking the counseling group under resources and then scholarships for constant updates. Just put on a link that's connected to 900 scholarships being given in SD only. New ones are constantly being posted as they come in. Keep checking to get the cash!
Interested in taking College Algebra? There are still spots available for next semester!! This dual credit course is taught at Harrisburg High School by a college professor. Cost for the course is $145. The course is worth 3 college credits and 1 full High School Math credit. See a counselor if interested!
YEARBOOKS....please stop by C125 and pick up your 2017-18 book. If you want one they are $60.00.
2018-19 books are on sale and the price goes up next week. All families should have recieved an email. If not, go to Jostens.com and get one ordered for 49.00
SENIORS: Senior pictures are due to Mrs. Kruggel's email box before you leave for Christmas break. Please put SENIOR19 in the subject line and submit a vertical pose.
Student Council Competition- During the Month of Nov. HHS student council is competing with SF Washington, Lincoln, Dakota Valley, Vermillion, Yankton and a few other schoools to STUFF THE TURKEY. You will see 4 (1 per grade) boxes that look like turkeys in the front office. The grade that drops off the most packages of NEW undergarments, socks and t- shirts will earn a rootbeer float party, TBA after Nov. 30th. #WE'veGotYouCovered. All items will be distributed locally.
Come and see the hilarious HHS Musical comedy, Once Upon A Mattress! Get your tickets at www.harrisburgpac.com. See you at the show!
HHS winter clothing apparel drive will be collecting items (hats, mittens, coats, etc.) until the end of this week. If you happen to have any of these gently used items, please use the donation box right next to the main office to donate. (Deadline is now December 7th instead of November 30th.)