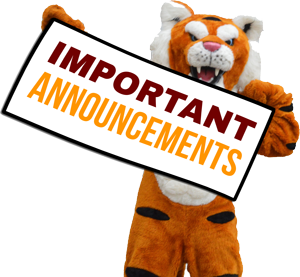 Announcements
HHS - Rox Bicknase
Wednesday, September 05, 2018
Audtions for the Drama Club production of Sherlock Holmes: Bakker Street Irregulars will be next Monday/Tuesday right after school in the PAC. Audition forms available on the Perch, outside of Mrs. Berg's Office, and with Mr. Smith.
If you happen to see the following students (Aidan O'Hara, Mia Adams, Angelynna Pyeatt) please recognize them for their efforts in earning HHS DECA's Tiger Balloons a Gold Certification distinction from the National DECA's School Based Enterprise (SBE) Competition. To my knowledge they are the first chapter in the history of the State of South Dakota to earn this distinction. Of the 4,500 DECA Chapters throughout the World only 483 SBE's earned this honor for the past school year. Because of the efforts from the students in completing a 25 page business plan and starting up the Tiger Balloon's School Store, these students have qualified to attend the School Based Enterprise Academy in Orlando this Spring at the International Career Development Conference (ICDC), where they will learn best practices from other SBE's and industry professionals in retail, and also present their SBE and compete against other schools from across the world.
Gymnastics state meet, Emma Maeschen, (pronounced MAY SHEN), 8th grade, SMS made it to individual day on bars! And Lauren Hruby (pronounced RUBY), Freshman HHS, made it to individual day on Beam! The team competed on Sat. in Brookings at ESD, and these two will be representing Harrisburg at our State Gymnastics Meet in Brookings! This is Emma's 1st year at state, and Lauren's 2nd.
CONGRATULATIONS!!!!
Congratulations to the cast and crew of The Greatest Show, Man for earning the highest honor, Superior Play, at the state one act play festival. Individual acting awards were presented to Grant Tiede, Carter Jackson, Liz Ocegueda, Autumn Spyksma, Rylin Yerdon, and Kyle VanBuskirk. The adjudicating judged also praised Neil Peltier and Autumn Spyskma for their work as playwrights and Bailee Wescott for her costuming. Well done HHS Drama!
SENIORS: Need to Pay for College???
Be sure that you are periodically checking the counseling group under resources and then scholarships for constant updates. Just put on a link that's connected to 900 scholarships being given in SD only. New ones are constantly being posted as they come in. Keep checking to get the cash!
Boys Soccer Open Gym will be held on Sundays from 6:00-8:00pm at the South Middle School Gym.
If you are planning to take an AP Exam this spring, a registration check must be submitted to Mrs. Meyer in the G-Wing Office, Room G115 by February 13th. The cost is $94 per test. Please include your name and the AP Exams that you are registering for in the memo portion of your check.
Congratulations to the 2019-20 Student Council Officers.
President- Rylee Ann Andre Vice President- Sami Farrell Secretary- Lily Ana Petersen Treasurer- Derek Lieser Historian/Communications Chair-Emily Olson Sargent at Arms- Austyn Smithback Grade level representatives. Jrs-Reece Anderson, Brooke Aden Sophomores-Kyle Van Buskirk, Paige Miller, Ellie Gran, Sophia Schmaltz, Princess Cooper, Madysen Schmid, Siri Anderson, Connor Jensen Freshman- Sydney Hage, Molly Parsons, Baylie Reisch, Berkley Halstenson and Brooke Ulrickson